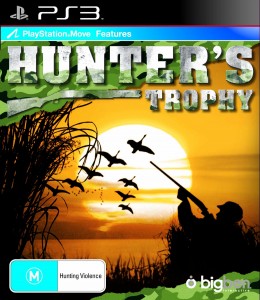 Bluemouth Interactive have at it again with some more Playstation 3 releases. This time they are distributing Hunter's Trophy all over the country. Developed by Big Ben Interactive, Hunter's Trophy is a true hunting simulation, respectful of hunting regulations. Using a rifle or a bow, you hunt over 20 different species in many different terrains, by day, by night, in the rain or in the sunshine. The game also features an arcade mode shooting range with clay pigeons, targets and shapes.
Although you will be able to use the DualShock controller, the game will come with a genuine break-open-barrel rifle accessory for use with Playstation Move. Yes, a rifle for your Playstation Move. Other feature include stereoscopic 3D and Ball-Trap mode for up to 4 players. It was also developed in cooperation with the Loire Atlantique, France, a regional hunting federation, so the game is going for an accurate simulation.
Expect the game in early November for the price of $69.95. Check out the full package below.