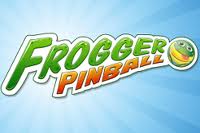 Of all the crossovers on all the platforms, I have to say I never saw this one coming. Konami has announced that later this month beloved classic Frogger will be making a return, except with a twist. Instead of the usual frog attempting to cross the road, Frogger now has the ability to turn himself into a pinball and roll, flip, and of course leap, his way to safety.
There are two modes for Frogger Pinball, one shot mode where you try and make your high score count, or story mode where you play through levels to try and save your Lily from RoboCroc. Gamers can participate in pinball tournaments, competing for the title of ultimate pinball master (though not that exact title)! There are a range of unlockables and a huge amount of fun to be had in this 30th anniversary throwback.
Frogger Pinball is going to be released on iOS and Facebook. For more info go to Konami's website here.
What do you guys reckon? Gonna grab this classic when it comes out?