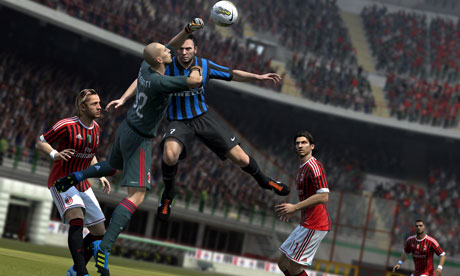 EA Sports have just released the soundtrack listing for FIFA 12, featuring 39 different artists from 15 countries. The news comes just in time for the demo's release, which is the 13th in the Americas and 14th for the rest of us.
"Our belief is that FIFA soundtracks must always be more than just a collection of songs," said Steve Schnur, Worldwide Executive of Music and Marketing at EA. "We want to create a true international showcase that embodies dozens of nations and virtually every genre of music. We want to bring the world closer together by uniting the global cultures of soccer and music."
Here is the track listing:
Alex Metric & Steve Angello: Open Your Eyes (England/Sweden)
All Mankind: Break The Spell (Australia)
Architecture In Helsinki: Escapee (Australia)
Bloco Bleque / Gabriel O Pensador: So Tem Jogador (Brazil)
Chase & Status: No Problem (England)
Crystal Castles / Robert Smith: Not In Love (Canada/England)
CSS Hits Me Like A Rock: (Brazil)
Cut Copy: Where I'm Going (Australia)
Digitalism: Circles (Germany)
DJ Raff: Latino & Proud (Chile)
El Guincho: Bombay (Fresh Touch Dub Mix) (Spain)
Empresarios: Sabor Tropical (USA)
Foster The People: Call It What You Want (USA)
GIVERS: Up Up Up (USA)
Glasvegas: The World Is Yours (Scotland)
Graffiti6: Stare Into The Sun (England)
Grouplove: Colours (Captain Cutz Remix) (USA)
Japanese Popstars: Let Go (England)
Kasabian: Switchblade Smiles (England)
La Vida Boheme: El Buen Salvaje (Venezuela)
Little Dragon: NightLight (England)
Macaco: Una Sola Voz (Spain)
Marteria / Yasha: Verstrahlt (Germany)
Monarchy: The Phoenix Alive (Kris Menace Remix) (England)
Pint Shot Riot: Twisted Soul (England)
Portugal. The Man: Got It All (This Can't Be Living Now) (USA)
Rock Mafia: The Big Bang (USA)
Spank Rock: Energy (USA)
The Chain Gang Of 1974: Hold On (USA)
The Hives: Thousand Answers (Sweden)
The Medics: City (Holland)
The Naked & Famous: Punching In A Dream (New Zealand)
The Strokes: Machu Picchu (USA)
The Ting Tings: Hands (England)
The Vaccines: Wreckin' Bar (Ra Ra Ra) (England)
Thievery Corporation: Stargazer (England)
Tittsworth & Alvin Risk / Maluca: La Campana (USA/Portugal)
TV On The Radio: Will Do (USA)
Tying Tiffany: Drownin' (Italy)
JUST OVER TWO WEEKS TIL LAUNCH DAY PEOPLE!
Don't forget to follow us on Twitter @capsulecomputers.