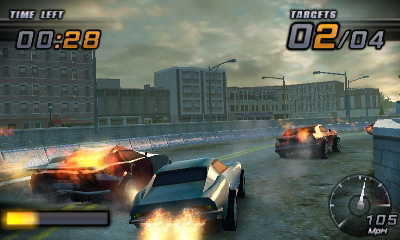 John Tanner returns in all his brutal glory, this time exclusively on the Nintendo 3DS, complete with the franchises trademark intense and reckless style of gameplay that truly immerses you in the chaos. Being able to experience this in 3D will only add to the excitement as every crash, metal on metal scrape and burning tire on asphalt will be closer and more in your face than ever.
Drive around at break neck speed with reckless abandonment for the road or the enemies in your tow, as you take down everything that gets in your way to reveal justice. Tanner has had countless years under his belt working undercover but has now decided to turn vigilante and take matters into his own hands. His city of New York has been overrun by scum, drug dealers and pimps, and having saved Senator Ballards life, Tanner agrees to clean the city underhis own terms; off the books and without a boss.
His quest to clean the city will not be an easy task, with five major kingpins to deal with including a drug dealer, organs trafficker, pimp, arms dealer and trader. With only a few friends to aid him, Tanner brings his own brand of war to the street armed with his trusty car.