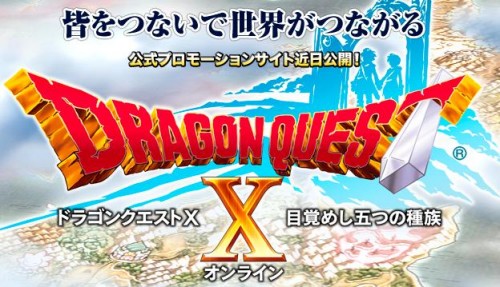 The day many of us Dragon Quest fans have been waiting for has finally come as Square-Enix have finally came out and announced Dragon Quest X at the 25th Anniversary Dragon Quest New Production Announcement Event (go figure..). Instead of the portable route the series has taken in recent years, Dragon Quest X will be headed to the Nintendo Wii in 2012 for Japan, with a later release planned for the Wii U.
Quests for Dragon Quest X will work exactly the same as Dragon Quest IX: Sentinels of the Starry Skies, with new quests being distributed to the player. Seasonal Events will also take place that will enable special items to be obtained. A form of 3DS interactivity was also confirmed, which is looking to be the "Tag Mode" that DQIX originally presented. This Wii entry will also feature support for the Remote + Nunchuck, Classic Controller, Classic Controller PRO, or USB Keyboard and will also be bundled with a USB memory device.
The most interesting news surrounding this new title though is the name as well as the details surrounding it. The 10th Dragon Quest adventure is set to be called "Dragon Quest X: Waking of the Five Tribes Online". Yes, this is an online RPG, where players will have to have an internet connection to progress. While this does add the potential for a ton of interactivity for other players, it also marks a large leap for the series that could be deemed a bit controversial for fans without the proper set-up to actually play the game.
Personally, I feel that the online feature is definitely a plus as the series has been cookie-cutter for 25 years now, so this kind of risk might be just what Dragon Quest needs to reboot itself. You can visit the new website for Dragon Quest X here (which is currently seeking Beta Testers), and once more details emerge we will be sure to bring you an update.