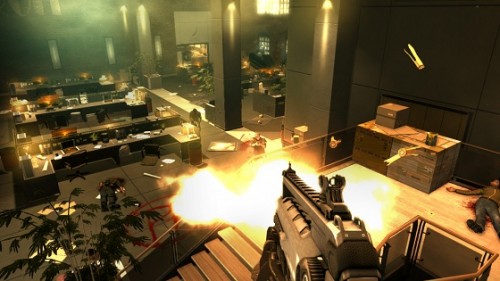 Mac gamers rejoice! Today Feral Interactive that Deus Ex: Human Revolution will be released for the Mac in winter 2011/12. for game consoles and PC, its awesome to hear The prequel to the classic Deus Ex has already seen a very successful release on Xbox 360, PlayStation 3 and the PC earlier last month, developed by Eidos-Montreal and published by Square Enix. Check out our review here!
"Deus Ex: Human Revolution presents the player with truly meaningful decisions in a unique and captivating game world." said David Stephen, Managing Director of Feral Interactive. "The degree of freedom it offers is extraordinary."
"We are delighted to partner with Feral, a leading expert in development for the Mac platform, to bring the acclaimed Deus Ex: Human Revolution to Mac players, " said Stephane D'Astous, general manager of Eidos-Montreal. "The game presents a powerful vision of a dystopian future, and we're excited that gamers will now be able to experience it on the Mac."
Pricing, system requirements and specific release date will be announced later this year.