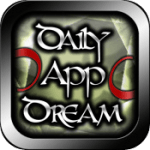 As a self-dubbed Jewsian (half Jewish, half Asian, all cheapass) I love me some discounted stuff and if its free, well, I can't even begin to contain my glee. So if there are any of you out there like me – and I know there are some of you, especially students – then you'll benefit from this website.
Daily App Dream is a website that is partnered with various iOS developers to offer up free daily apps. It's a great way to not only get some free games but be exposed to some great indie developers who you may have not experienced otherwise. And hey, if you don't like the app all that much, well it was free!
There is also a request service, so you can suggest or ask for apps. They don't state the exact process but I'm guessing they then sell themselves as hard as possible to the developers to try and make your dream come true. It's a great way of doing things, and really shows and interest in both the gaming community as well as the developers.
Daily App Dream also have their own app which allows you to get free apps without the use of a computer, which they update on a regular basis. The app is free, however there is also an ad-free version of the app for $1.99 if advertising makes you really angry. The cost is to cover themselves, since their advertising money is their only revenue stream, which is fair enough. Perhaps I just think that because I'm willing to go through ads to get to the free stuff, that's why I don't own cable.
Grab the free app here or the $1.99 ad-free version here. Or, if you'd rather, you can sign up for an email newsletter, or follow them on Twitter.
Come on guys, what are you waiting for? Go grab your free apps!