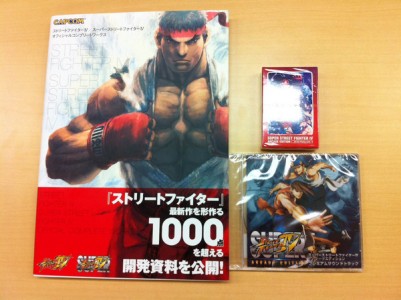 In celebration for their upcoming update for Sreet Fighter IV Volt for iPhone/iPod/iPad, Capcom-Unity are hosting a Street Fighter give away on their website! This new update will contain 2 new fighters: one being Fei Long, the other yet to be revealed. Fans now have the chance to guess at the second character that will be in the update, on their page. Accepting one guess per person, and only accepting one name, participants better think hard! All entries that are correct will be thrown into the drawing to win an awesome Street Fighter prize pack that includes:
1. SFIV,SSFIV Official Complete guide/art book
2. SSFIV promo Playing card
3. SSFIV AE premium sound track

and the gift Capcom app bundle:
– RE4 mobile edition
– RE Mercenaries VS.
– Dead Rising Mobile
– DMC4 Refrain
– Monster Hunter Dynamic Hunting
– Ghost and Goblins 1 and 2
Click here to check out and enter the competition via the Capcom-Unity website!
Click here to read the rules and legal.
Click here to read our Street Fighter IV Volt: Battle Protocol Review!
CLICK HERE FOR MORE CAPCOM NEWS AND REVIEWS!
DISCLAIMER: Capsule Computers are not affiliated with this competition at all. We are just informing and promoting it.