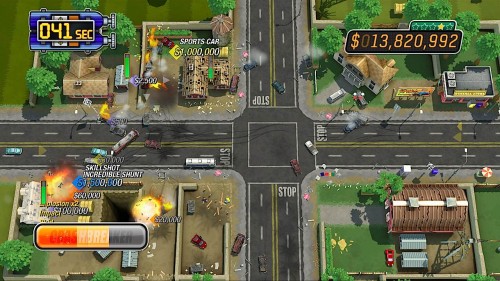 Hot off the heels of its release on the PSN, Burnout CRASH! has been released on the Xbox LIVE Arcade. With a cheap price tag and hours of crashing fun, who can resist this game's charms? Instead of crashing for fun in normal driving games, this game is designed for you to crash. Substituting the totally awesome multi-camera-angle shot of the crash and then berating you for ruining your car, Burnout CRASH! wants you to take that car and cause as much wreckage as possible. Gaining points for the amount of destruction you cause? Count me in.
Burnout CRASH! is available on XBLA for $15.95 AUD or 800 Microsoft Points.
As an added bonus, EA have teamed up with David 'The Hoff' Hasselhoff to bring out a series of hilarious videos linked to Burnout CRASH! So, head on over to the site to check them out and see what the Hoff's been up to lately.
Let's get CRASHING!