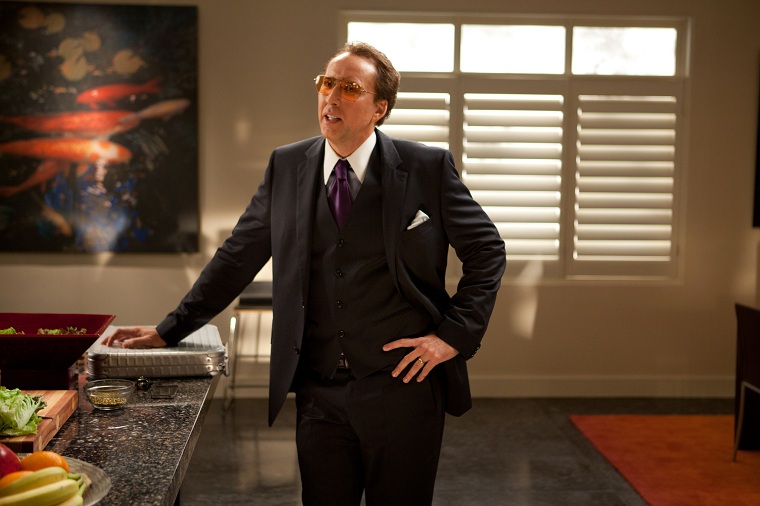 Art imitates life for Nicolas Cage, as he tells of his own weird and wonderful experience with home invasion, amidst the hype surrounding his new film, also starring Nicole Kidman and directed by Joel Schumacher. "Trespass" tells the story of a husband and wife held for ransom by 4 aggressive perpetrators. As time goes on, the story twists and turns to reveal secrets about each other and a vast web of betrayal and deception.
While many will grimace at the idea of another home invasion/revenge plot where the good guy eventually prevails, this is Nicholas Cage we are talking about, Nicholas Cage people, the Lord of War and many other onscreen personas from sorcerers to protectors of National Secrets. At the recent Toronto film festival he gave the crowd his detailed account of the night he was invaded saying
"It was two in the morning. I was living in Orange County at the time and was asleep with my wife. My two-year old at the time was in another room. I opened my eyes and there was a naked man wearing my leather jacket eating a Fudgesicle in front of my bed. I know it sounds funny … but it was horrifying."
With a lot of the things I'm sure this guy has seen amongst the Hollywood circles I can't imagine the incident scarred him too much but nonetheless I can imagine it would be a little unsettling. Good Old Nick decided not to press charges against the man due to mental illness reasons but says he was unable to continue living in the Orange County home.
Fudgesicle = Iceblock or IceCream, Paddlepop etc for all you Australians or non-Americans where strange sugar based treats have even stranger names.
Trespass premiered at the Toronto film festival and can be seen in US cinemas soon. With that looks to be a limited release, the DVD looks to be released early 2012 to many other countries.