It's safe to say that since the release of the TV series, a Game of Thrones and the rest of the 'A Song of Ice and Fire' books have become a bit of a phenomenon. The incredibly detailed fantasy setting, packed full of warring houses and their bannermen, is perfect material for a strategy game, and developers Cyanide Studio have taken on the task of bringing the world to life for fans already spoiled by the fantastic TV adaptation.
For those not already taken in by either book or show, a Game of Thrones is the first novel of 'A Song of Ice and Fire', a series of fantasy novels by American writer George R R Martin. They chronicle the constant battle for the rule of the kingdom of Westeros, where the king sits on an Iron Throne made from the swords of his vanquished enemies. There are darker forces at work whilst the families war over the crown, and in the words of house Stark – 'winter is coming' and winter, in Westeros, is deadly. It's not all swords and sorcery though – Martin's characters are as deft at manipulation and as masterful of politics as they are at raising armies.
So the developers have a big challenge here, and a lot of fans to impress. On to the game…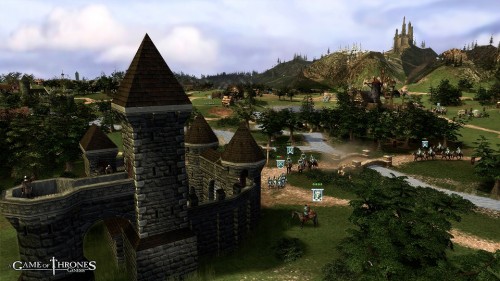 Players will be able to take on the quest for the Iron Throne in a campaign beginning 1000 years before the events of the books, going from the founding of Westeros to the capture of the nation by Aegon the Conqueror and right on through to the War of the Usurper. There are armies to be raised and castles and villages to besiege and destroy in the battle for the Iron Throne, with both a single player campaign and 8 man multiplayer.
What's great to see is that the political intrigue and manipulations of the books will not be overshadowed by combat. The game is full of opportunities for Lannister* style foul play, with opponents vulnerable to both economic and military war. The Iron Throne is, according to the developers, winnable without raising a single army.
It all speaks of a great respect for the source material, and it's no surprise that George R R Martin has played a part in Genesis' development- the single player campaign was written under his supervision. The screenshots too, show off a world that looks faithful to the books.
The game will be released in both digital and retail format on September 29, so if you're a fan of the series or are just after a fresh strategy game, take a look at the new screenshots below and watch out for a review from Capsule Computers!
*Lannister=evil
[nggallery id=369]