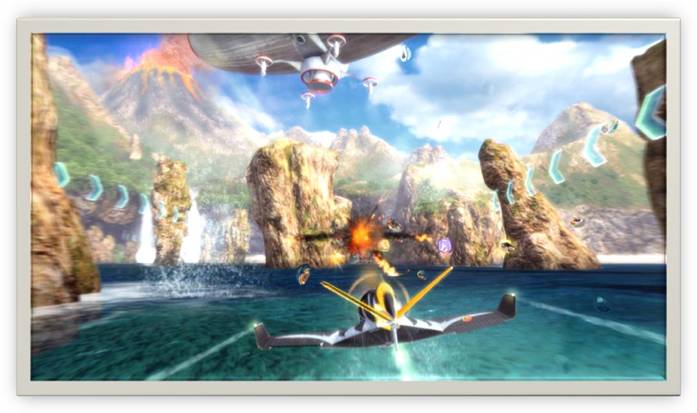 Theres something about flight based games that people love, whether it be the thrill of defying gravity and nature at break neck speeds or simply that they are so few and far between I really have no idea. Either way, fans of the genre as well as fans of any arcade style game are in for a treat, as Digital Reality's Skydrift has finally hit the PSN and XBLA marketplaces. In what looks to be as fun as Mario Kart in the air, Skydrift features 8 unique state of the art planes each with four varying skins to adorn them with, and is set across 33 living and changing reversible tracks.
The motto of Skydrift is simple; Overtake your opponents or better still, shoot them down like the annoying and dirty flies that they are. Although having a heacy arcade feel, Skydrift also requires some tactics as each plane can carry two of six available powerups which can be upgraded and swapped out depending on the environment and its needs. In game graphics are vibrant and feature well known and famous locations such as the Grand Canyon, Alaska and the Hawaiian islands which create stunning backdrops for the fast paced aerial shooter.
As well as the single player mode, Skydrift allows up to 8 friends or complete strangers to compete amongst themselves to dominate the air. The three modes within the game are Power race mode with the inclusion of power up icons, Speed race mode through rings and Survival mode which speaks for itself.
Skydrift is available through the Playstation Network or XBox Live Arcade
For more information on the title visit
www.skydriftgame.com