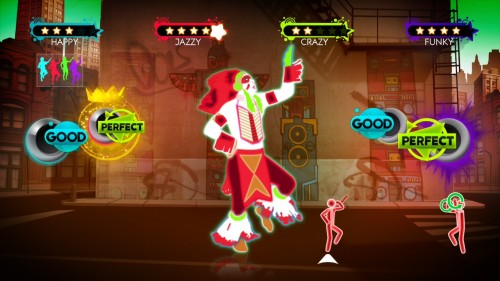 If you by chance were curious of what tracks Ubisoft have in store for Just Dance 3, you can now look no further as over 40 have been revealed at Gamescom. Now, as many of you know, this sequel will mark the first of many things for the series. As well as the Nintendo Wii, Just Dance 3 will be released on Xbox 360 with Kinect and will allow for up to four players to join in at once. A brand new "sing-a-long" feature has also been added in so players can sing while they are dancing, adding a whole new level of gameplay.
After looking at this track list, there seems to be something to please all within, from the likes of KISS to Katy Perry.
Check out the 46 tracks that were announced for yourself:

1. 2 Unlimited – "No Limit"
2. a-ha – "Take On Me"
3. Anja – "Dance All Nite"
4. Bananarama – "Venus"
5. Black Eyed Peas – "Pump It"
6. Bollywood Rainbow – "Kurio ko uddah le jana"
7. Cee Lo Green – "Forget You"
8. Countdown Mix Masters – "Beautiful Liar"
9. Daft Punk – "Da Funk"
10. Danny Elfman – "This is Halloween"
11. Donna Summer – "I Feel Love"
12. Dr. Creole – "Baby Zouk"
13. Duck Sauce – "Barbra Streisand"
14. Girls Aloud – "Jump (For My Love)"
15. Groove Century – "Boogie Wonderland"
16. Gwen Stefani – "What You Waiting For"
17. Inspector Marceau – "The Master Blaster"
18. Janelle Monae – "Tightrope (Solo Version)"
19. Jessie J featuring B.o.B – "Price Tag"
20. Brahms by Just Dance Classical Orchestra – "Hungarian Dance No. 5"
21. Katy Perry featuring Snoop Dogg – "California Gurls"
22. Kiss – "I Was Made For Lovin' You"
23. Konshens – "Jamaican Dance"
24. African Ladies – "Pata Pata"
25. Latino Sunset – "Mamasita"
26. Laura Bell Bundy – "Giddy On Up (Giddy On Out)"
27. Lena Meyer-Landrut – "Satellite"
28. LMFAO featuring Lauren Bennett and GoonRock – "Party Rock Anthem"
29. Madness – "Night Boat To Cairo"
30. MIKA – "Lollipop"
31. Nelly Furtado featuring Timbaland – "Promiscuous"
32. Pointer Sisters – "I'm So Excited"
33. Queen – "Crazy Little Thing Called Love"
34. Reggaeton Explosion – "Boom"
35. Rita Mitsouko – "Marcia Baila"
36. Robbie Williams and Nicole Kidman – "Somethin' Stupid"
37. Scissor Sisters – "I Don't Feel Like Dancin'"
38. Sweat Invaders – "Gonna Make You Sweat (Everybody Dance Now)"
39. Taio Cruz – "Dynamite"
40. The Buggles – "Video Killed The Radio Star"
41. The Chemical Brothers – "Hey Boy Hey Girl"
42. The Girly Team – "Baby One More Time"
43. The London Theatre Orchestra & Cast – "Think"
44. The Sugarhill Gang – "Apache (Jump On It)"
45. Tommy Sparks – "She's Got Me Dancing"
46. Wilson Pickett – "Land of 1000 Dances"
Not a bad list at all, and it certainly is nice to see some 80's & 90's love mixed in. I know many of you are heavily awaiting the big Battlefield vs COD later this year, but I have to say I think it will be interesting to see how Just Dance 3 fares against Dance Central and Zumba 2. The market has certainly changed a bit in the last year concerning the dance genre, so I could certainly see Ubisoft pulling out quite a trick card to retain their crown.