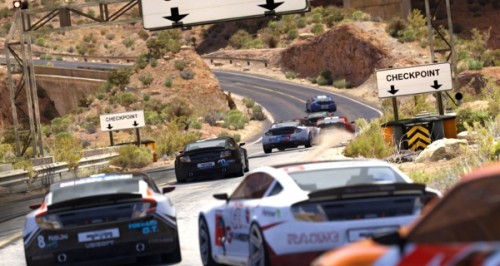 Ubisoft has announced September 14th, 2011 as the offical release date for online racer Trackmania2 Canyon. In case you are unfamiliar with the series,Trackmania already boasts a player base of millions, and is a realistically styled arcade racer with a huge emphasis on creating your own custom content and sharing it with the community.
The sequel promises to be no different, with players able to build their own tracks, customise their cars and even write scripts for the game. The sequel will be the first title to make use of Nadeo's new Maniaplanet system, which the studio hopes to build out to include other up and coming titles such as Shootmania and Questmania, integrating all of these online multiplayers into one giant community.
Trackmania2 Canyon also offers a huge multiplayer, with up to 200 players able to challenge each other on the same track, at the same time. In such massive races there are bound to be some stand out moments, and with the in-game studio players will have the ability to edit and save their race highlights in TV quality, or even show off their custom creations to the community.
Readers who happen to be hanging out in Cologne later this week can pop in to Gamescom where the game is being showcased by the Electronic Sporting League. The event will include an oppurtunity for hands on play, an invitation only pro gamer tournament, and the chance to challenge said pros at their own game. If a trip to Germany isn't in your plans (and why not?) then head over to TrackMania's official site, where from August 17 you can prepurchase the game and get guaranteed access to the multiplayer beta which opens on the very same day.
Happy racing!