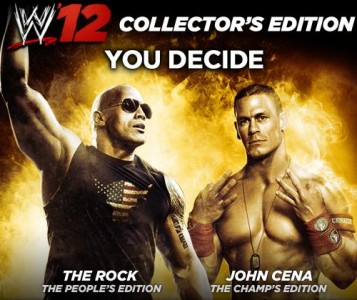 Earlier today, THQ revealed a nice, meaty roster for the upcoming WWE '12, which will be released in November. It seems now that a collector's edition will also be hitting stores along with the standard release, and THQ want you to pick which superstar graces the cover.
Now if you have been watching the WWE in recent months, you should know that The Rock and John Cena already have a main event matched booked for Wrestlemania XVIII. To go with this theme, fans will now get to decide via the Official Facebook page for WWE '12 whether they want the "People's Edition", featuring The Rock, or "The Champ's Edition", which will of course feature John Cena. As a WWE fan that is tired of seeing Cena on every piece of merchandise, I have already cast my vote for The Rock, and it is looking like many of the fans are agreeing with my decision based on the near 5000 vote lead the Brauma Bull has over Cena.
You can cast your own vote on the official page here, and once some of the actual contents are revealed for this set, we will be sure to bring you an update.