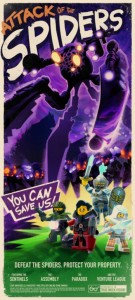 Lego Universe has added a slew of awesomely epic content this week. First off, players will be able to level up to 40 in a brand new level progression system, and there is a ton of new achievements and awards to be earned as they try to achieve that rank. In addition, there are 4 new Faction kits available with "specialized Adventurer, Shinobi, Inventor and Space Ranger kits that are now available to players who have aligned with one of the four Nexus Force factions, and players are called upon to power up through three ranks to explore the new gear, powers and abilities."
Equipment upgrades and new backpack items, plus other gear and added coop levels have also been released. Finally, a boss battle with a humongous beast can be fought in Avant Gardens. Check the screenshot above for more details on that, or check out this link for the full size picture..
"We love to challenge our LEGO Universe builders. We're regularly adding new content and new bricks for players to continuously evolve and tap into their innermost creativity," said Jordan Itkowitz, Design Director of LEGO Universe. "With the addition of the leveling system, we're looking to inspire players to explore deeper into the universe, and tackle more difficult goals than they may have considered before."
"Defeat the spiders!
Protect your property!
Save imagination!"
Will you be playing the original content soon? I know I hope to get back into it.