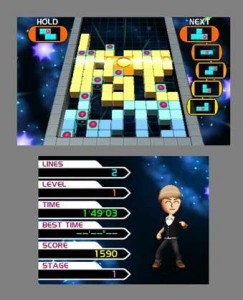 When the original Game Boy released over 20 years ago, Tetris was responsible for skyrocketing sales of the portable and became a legendary franchise in the process. Fast forward to today and Nintendo are looking to repeat that magic with the upcoming release of the newly titled Tetris Axis for the 3DS. This new L-block connecting romp will feature 20 new and old modes as well as feature the classic puzzler in 3D. Up to eight players will also be able to play wirelessly as well in a multiplayer mode, with only one person actually needing the cartridge due to the single-card sharing function.
Here is a more detailed list of features for Tetris Axis to give you a better idea just what else is inside:
Features
Over 20 Tetris game modes!
Featured Game Modes: Marathon, Computer Battle, Fever, and Survival
Party Game Modes: Stage Racer Plus, Shadow Wide, Jigsaw, Tower Climber, Capture, Fit, Bombliss, Sprint, and Master Mode
Augmented Reality Game Modes: AR Marathon and AR Tower Climber
Local Multiplayer Game Modes (2P–8P): VS Battle, VS Stage Racer, VS Shadow Wide, VS Capture, and Co‐op Tower Climber
Download Play Game Modes (2P–8P): Marathon with Everyone, Fever with Everyone, and VS Battle
Nintendo Wi‐Fi Connection Game Modes (2P–6P): 3 variants of World Battle
Discover new exciting Items for Fever using SpotPass
Since the now defunct Hudson are developing this title, it very well could be one of the most definitive Tetris titles we have seen as of yet based on the massive amount of extras packed in. Thankfully, those with a puzzler itch that own the 3DS won't have to wait long, as Tetris Axis is set to release on October 2nd, which is now just a bit over a month away.