High school is one of the most dramatic times of your life so it was only a matter of time until a game based around that drama was made. EA mobile have released Surviving High School HD on the iPad based on that concept.
I'm sure a fair few of us would have enjoyed high school a lot more if we'd had the control over events then that you can have in this game; you can choose your place in the high school hierarchy, interact with evolving storylines, and participate in some epic first loves. Every week there are new free episodes that come out as the characters around you get into their own angsty teenage dramas and you can either get involved or keep away.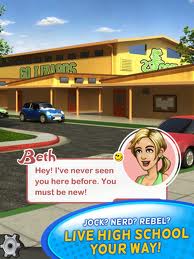 The iPad version comes with a visual upgrade to High Def that improves the graphics of those pretty faces. It also comes with the addition of 'Faceplace' a Facebook imitation where the characters post about their feelings and maybe what they ate for lunch. Along with these two features the interface and general look is given a facelift, improving the gaming experience overall.
If you want any more information about Surviving High School HD head on over to www.eamobile.com.
Well, what are you waiting for? School's in!