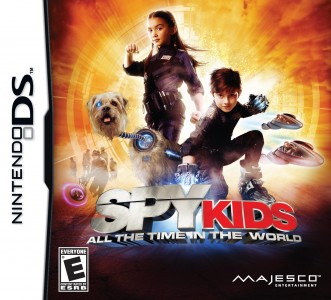 If you have little gamers in the family or are just a fan of platformers, you will be happy to know that Spy Kids: All The Time in the World is now available on the Nintendo DS. Based on the movie of the same name (that hits theaters on August 19th), Spy Kids: All the Time in the World places players in the role of Rebecca and Cecil as they try to take out the evil Time Keeper and save the world using high tech gadgets and weaponry.
Other features include:
Eight levels full of baddies and traps, including: Downtown, OSS Base, OSS Vault, Big Time Watch Repair Shop, and Time Keeper's Lair
Play as either Rebecca or Cecil, each with special skills
Master state-of-the-art gadgets to fend off enemies and find hidden goodies
Navigate environmental puzzles like quicksand, conveyer belts, air vents, slick surfaces, and more
Earn special attacks, such as Double Speed Attack, Attack Power-up, Mega Super Power Boom, Blue Cheese Bomb, and more
Alongside this release, Majesco have also brought out some new screenshots that you can view below, showing off the varied levels and enemies that players will encounter.