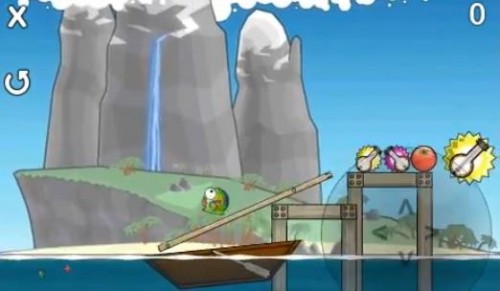 Do you enjoy the delicacy of a nice, tasty banjo? Well, these vegetarian piranhas in Sauce Digital's upcoming iPhone/iPad title Banjo Piranha do. In this little game, player's take control of the fish by diving deep and then jumping high in the air to gobble up as many banjos as possible. I want to say I am reminded a bit of Angry Birds by the concept alone, but with an emphasis on collecting rather than destroying.
Features Include:
• Universal app for iPhone and iPad
• Gorgeous retina graphics
• Fab audio and great music
• 50+ stages of increasing difficulty
• Angry enemy piranhas
• Personal bests saved for; score, stages completed, banjos collected, biggest air and longest survival.
You can check out the southern-instrument eating fish in the trailer down below, and prepare yourself, as Banjo Piranha launches in Early September in the iTunes store.