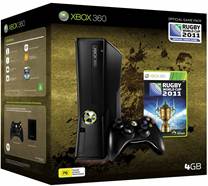 Microsoft have announced that the official game for the Rugby World Cup 2011 will be receiving a limited edition Xbox 360 bundle too, ideal for those who are excited for the Rugby World Cup to the point that they want to pick up the game and see what it's up to, or those keeping an eye on the game who also feel like upgrading their system to the 4GB slim model.
The package will release on the 25th August in Australia, the same date as the game from 505 Games, for a RRP of $349 AUD. Although it hasn't been confirmed whether the bundle will release elsewhere, I imagine it would with all the excitement surrounding the Rugby World Cup.
The question is, will you be picking up Rugby World Cup 2011 game or Jonah Lomu's Rugby Challenge?