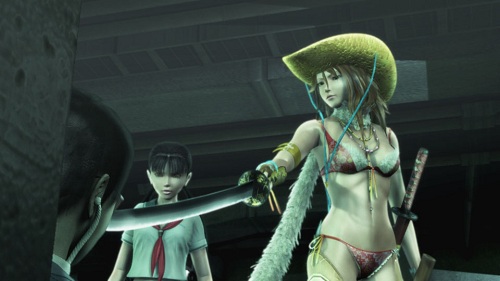 It was rumored a few weeks ago that D3Publisher was working on another title in the Onechanbara series, but they never truly said that it was going to happen. That is of course until today when D3Publisher revealed that they are bringing Onechanbara Z: Kagura exclusively to the Xbox 360.
Famitsu reports that Onechanbara Z: Kagura will contain just as much blood as previous games have had, but rather than playing as the normal protagonist Aya, players will be playing as Kagura and Saaya. The game will be released sometime in the Winter for Japan, and considering the title is 360 exclusive, there is a very good chance the game will be localized to North America.
I played the previous Xbox 360 title Onechanbara: Bikini Samurai Squad and found it to be an enjoyable and mindless hack and slash title, albeit one with plenty of fan-service. It felt a bit dated for its time but was still fun, so hopefully this title will indeed be localized for fans of mass zombie killing and bikinis.