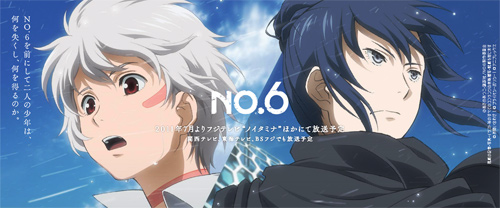 After only airing 4 episodes to date in Japan, dystopian/utopian futuristic thriller No. 6 has been licensed for dubbing and distribution throughout the US by Sentai Filmworks.
This news comes as quite a shock considering the series that it has not yet even made it half way through it's set series lenth of 11 episodes. However this would not be the first time Sentai Filmworks have done such a licensing, as this has also happened with High School of the Dead when it first aired in Japan.
No. 6 tells the tale of a post war future in which 6 utopian cities have been set up to house the civilised upperclass, whilst the rest of the people considered filth by the governement live in the baron wastelands left behind. However there is it some deeper going on in these supposed utopian cities. Something dark that the government wants to keep hidden. Will the truth behind No. 6 be revealed?
You can catch episodes of No. 6 simulcast from Japan on Crunchyroll currently. No set release date has been given by Sentai as of posting.
What do you think of this announcement? Leave a comment below letting us know.