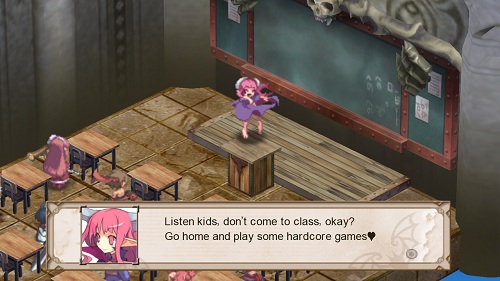 Earlier today, I reported that Disgaea 3 is heading to the Playstation Vita as Disgaea 3 Returns. It seems that there is more information since then.
Denegki Playstation interviewed Nippon Ichi CEO Sohei Niikawa and he revealed some new information in addition to reiterate the info which was included in the announcement (thanks to Andriasang). Here is a summary of the interview:
• He hopes that they will be able to present a playable demo at this year's Tokyo Game Show next month. That would be exciting.
• Niikawa wants to implement positional information and touch capabilities, both possible on the handheld. This could lead to creative gameplay mechanics (i.e. picking up and throwing prinnies).
• Disgaea 3 Returns may have their own downloadable content in addition to the PS3 DLC already added to the game (and that's all of the PS3 DLC).
• Visuals will not get an upgrade due to a focus on cramming in content. However, he has reassured gamers that the Vita version will still look beautiful.
• There is a possibility that the Vita version will load faster due to the handheld's "advance capabilities and better memory management".
• Disgaea 3 Returns may also be an experiment as Niikawa and his software company will observe the response to the game as an indicator in terms of what to develop for the Vita.
Niikawa also revealed in a separate interview with Siliconera that the company is looking into the PSP Remaster series:
"We're looking into it right now. We're investigating how the feature works and learning about the system. We're happy about it too because we have a strong lineup on the PSP and we would like to change that to PS3, so we can have a wider audience."
The PSP Remaster series is an initiative by Sony Japan to bring PSP exclusive games to the Playstation 3. Monster Hunter Portable 3rd HD Version will be the first of such games, which will feature cross-platform features such as shared save games and connectivity with players of both versions, as well as 3D and additional content. SCEA will be releasing God of War: Origins Collection, PS3 remakes of the God of War PSP games, while Metal Gear Solid: Peace Walker will be re-released by Konami as part of their Metal Gear Solid: HD Collection. However, the collection will be available on both the PS3 and Xbox 360.