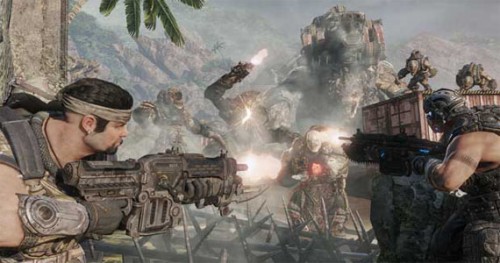 It's getting closer. Gears of War 3, exclusive to Xbox 360, nears its September 20 release date after a delay last year. With the release date so close now, Epic Games have decided to reveal a truckload of multiplayer maps for your enjoyment. It is quite a list so keep up. They are:
Checkout – Checkout's combat takes place in the carcass of an abandoned superstore.

Drydock – This shipyard stands full of undelivered goods and the necessary tools of a society's infrastructure. Its most prominent landmark is the rotting husk of a cargo ship that will forever stand in Drydock.

Gridlock – This ashen street was once a bustling tourist destination known for its quaint inns and waterfront cafés. Even the water is gone now, replaced by the burnt shell of a crater that stands as a testament to the loss of Seran humanity.

Hotel – Small island resorts such as this one catered to the opulent tastes of vacationing Serans. But as the Lambent infection spreads across the globe, tides are shifting to flood once popular beaches, and fierce winds batter and push at the walls of humanity's creations.

Mercy – This area was once a bustling town square filled with people, but it never recovered from the UIR mortar shellings of the Pendulum Wars.

Old Town – Several remote areas of Sera managed to stave off the impact of Emergence for quite some time. Island towns such as this one were able to sustain themselves with small farms and a steady bounty from the ocean.

Overpass – Battles in this highly dynamic map often focus around the elevated Overpass, where teams can hole up and take advantage of the protected position and emplaced weaponry located there.

Sandbar – This observation post once had a commanding view of the distant horizon. Never threatened, it was thought to be impenetrable due to its unpredictable coastline and the constant shifting of sandbars along the shallow water of the coastline. And it never did fall; it was simply abandoned when humanity fled from a threat that nobody could ever see coming.

Thrashball – This stadium was once home to a different sort of national hero, one who fought for honor and glory, instead of scrambling for survival.

Trenches – The Locust have begun to carve mines and tunnels into the rocks of the Seran Deadlands, eking out any existence that resembles the underground passages of the Hollow they once called home.
Man that is a lot of maps. Congrats to Epic Games for giving the players quite a bit of choice. The multiplayer offerings are just as good. Just to recap, Gears of War 3 has Horde Mode, Beast Mode, regular competitive online and offline and four player co-op campaign. But there is more. Gears of Wall 3 will include a Casual Versus Multiplayer playlist where new players will have the option to compete against one another.
Expect the game on September 20. You can pre-order three versions of the game: Standard (AUD $99.95), Limited (AUD $129.95) and Epic (AUD $199.95). Have your say about the multiplayer maps below.