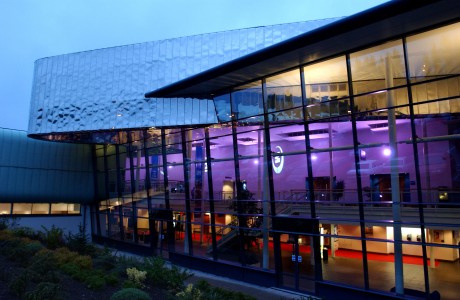 With just five weeks to go until insomnia43, the UK's largest LAN event, organiser Multiplay has begun to unveil some of the specific attractions appearing over the weekend.
Currys and PC World have been announced as headline attendees, bringing a variety of brands including Antec, ASUS, Kingston, NVidia, Intel, Madcatz and Roxio. The extensive range of games, peripherals and components from all of these big name brands and more can be seen online and in-store at Currys and PC World.
The event, which runs over the August bank holiday weekend at the Telford International Centre, will see upwards of 3,000 gamers compete in a host of prestigious multiplayer tournaments for a prize fund already in excess of £30,000.
Providing commentary – at the event and also for the expected hundreds of thousands of those watching the live stream – will be John "TotalBiscuit" Bain and Shaun "dApollo" Clark, from the popular 'Starcast' podcast – the leading authority on all things Starcraft. In addition, the League of Legends coverage will be handled by Leigh "Deman" Smith and Joe Miller – hugely respected names from the scene.
The insomnia Series of LAN events is a British institution, playing host to some of the biggest eSports tournaments in Europe – indeed, it is the host of the UK qualifiers for the World Cyber Games.
Organisers expect over 5,000 spectators to pass through the doors over the weekend, which includes dedicated exhibition space alongside the fiercely contested competition area.
The events prove a massive draw, even for those not attending. The competitions are streamed online all weekend and historically the i-Series has seen over 170,000 unique viewers and close to 10,000 concurrently – and this weekend's high-profile billing is expected to set a new record for certain tournaments.
Full details of confirmed companies so far:-
Samsung – showcasing its latest gaming and electronic devices
PC World – offering a wide range of equipment for purchase at the show and bringing many partners to demonstrate their products.
Medion – unveiling top-of-the-range gaming PC's, monitors and peripherals .
Iiyama – the monitor and touchscreen specialists will be showing off its wares
ASUS – tonnes of freebies and a Left 4 Dead 2 survival championship
Riot Games – sponsors of the League of Legends WCG tournament
Aquatuning – showing off their latest hardware and handing out awesome freebies
ESET UK – Andy the Android will make a triumphant return with an on-stand tournament and ace giveaways
Kingston – sponsors of the Counter-Strike Source Cup.
Pro Class TV – Coverage of the FIFA tournament including well known celebrity appearances (more soon!).
Quiet PC – showing that powerful can also be quiet!
Razer – sponsoring the international Starcraft 2 tournament.
Triple Widescreen – the makers of the iMotion Racing Seat will be speeding into i43
Ttesports – Sponsoring the Heroes of Newerth Tournament and showcasing their range of gaming hardware and peripherals.
Kustom PC – try out the latest hardware which will really help raise your game
Antec – showing all their latest range of PC products.
Team Dignitas – once again returning to i-Series, with its brilliant 'beat the pro' competitions
A full competitor "Bring Your Own Computer/Console" pass costs £92 for the whole weekend including camping. There are also options for those unable to bring their own equipment with "Turn Up and Play" passes costing £50 for particular tournaments and PCs being available for rent for £150 inclusive of the full entry pass.
Spectator passes start at £5 for a day access to the exhibition or £25 for the whole weekend including camping. Of course for those who can't make it, there will be free internet coverage of the event streamed live through Multiplay's site in High Definition.
For more information on the event, head over to iseries.multiplay.co.uk