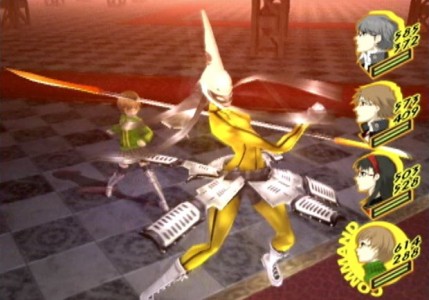 First, we have an anime. Then, we have an enhanced port of Persona 4 heading to the Playstation Vita. Now, we have more Persona media to announce as there are two more games in the franchise being developed.
The first is Persona 4: Ultimate in Mayonaka Arena (which is the screenshot above). It is a sequel to Persona 4, set two months after the game. It is a fighting game being developed by the team behind BlazBlue. The premise is a fighting tournament hosted by Teddie, a resident of the TV world. So far, Yosuke, Chi and Yu (the nameless protagonist in the original game, name taken from anime) have been revealed. Aiges from Persona 3 was also confirmed. He will be joined by other Persona 3 characters. The game will be released for the arcades in Spring 2012 before making appearances on consoles later in the same year.
The second game isn't really an announcement as such but more of a confirmation. Persona 5 is currently in the early stages of development and the regular Persona team will be fronting the development. Regulars Katsura Hashino and Shoji Meguro will be director and composer of both games respectively. Shigenori Soejima will be character designer on Persona 5. Hashino revealed that the game will have new elements, comparing the the nature of change to that of Persona 3, when it introduced dating-sim elements to the series. It will also be built around an internal HD engine, a first for the team. Although there was no platform announced, expect the game to make an appearance on the Playstation 3.
So, some extra Persona news. Must be a good day to be a Persona fan. What do you guys think? Is the Persona fighting game what you're looking for? Or is the new entry to the main series more your cup of tea? Give us you opinion below.