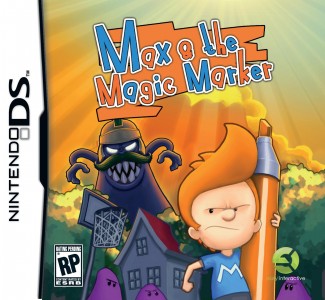 Press Play's Max and the Magic Marker made quite a splash when it was released back in early 2010 for the iOS, WiiWare, and Steam. Today it was announced that the little indie game will be expanding it's resume even further, as Easy Interactive have plans to bring the platformer to the Nintendo DS.
If you have by chance never heard of Max and the Magic Marker before, it is an adventure that places player's in the role of Max as he traverses a cartoony world, using his handy marker to bring objects to life and solve puzzles along the way.
A little list of features were also announced, giving us a better idea of what to expect from Max's DS romp:
Three stunning worlds
15 challenging levels
Variety of challenges, secrets and rewards to unlock
Intuitive use of the DS stylus as the magic marker
Original soundtrack by Danish band Analogik
I can definitely see the interest on bringing this tale to the DS, as the marker controls should be well complimented with the DS' stylus and platformers in general usually perform quite well on the handheld. Those who are ready to grab their marker and set off on this adventure should know that Max and the Magic Marker will officially release this holiday season.