Following the announcement of the Puella Magi Madoka Magica video game adaptation for the Playstation Portable, more details have be released surrounding the hotly anticipated PSP title.
Details surrounding the gameplay of the title have been revealed. The game will feature two sections of gameplay inter-connected, with an "adventure part" and a "dungeon part". The latter being as you'd imagine the dungeon crawler section of the title. The former of which will feature a story which retells that of the anime series of which the game is adapted.
Also revealed where several screenshots of the title which show off the games unique visual style, which reflects the anime's iconic imagery as well as displaying some shots of the dungeon crawling section.
Finally, also with all these details revealed was the announcement of a limited edition version of the game will be available, jam packed full of goodies. The limited edition version titled "Limited Contract Box" comes packed with the following:
Figma Model of protagonist Madoka
A special edition Blu-ray Disc
Plush Kyubei shaped pouch
HomuHomu handkerchief
Special themed card
SHAFT designed special edition Box
Or if you are more into eye candy, here is a picture of what's included in the "Limited Contract Box".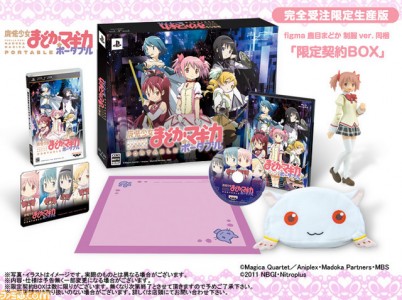 Madoka Magica PSP is slated for release on March 25th, 2012 in Japan and is being published by Bandai Namco Games. Pre-orders are now being taken in Japan. Please leave a comment below with your thoughts on this truck-load of information on Madoka Magica PSP.