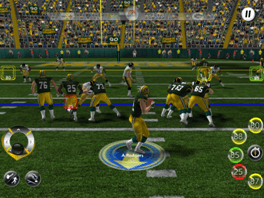 In addition to playing EA's football simulation game on the big screen, you can also now take it on the road with you. Available now on the iPhone,iPod Touch, iPad and Android devices, Madden '12 features all 32 NFL teams with their respective stadiums and playbook options. Plus, there is an Exhibition mode, a Season mode and the 2010/2011 playoffs. On the iOS version of the game, you will be able to earn achievements and login to Origin to rank on up the leaderboards. Madden '12 also has the following feature set:
·DRAW HOT ROUTES EVERYWHERE- Draw up Hot Routes for passing, running, and defense. Even save your best, or craziest, routes as audibles.
·CONTROL EVERY MOVE- Slow down the clock and make the play on both sides of the ball with Total Defensive Control (TDC) and Action Control Time (ACT). Pause the action and put your players in position to deliver game changing hits with TDC, or use Action Control Time to dominate defenses with dives, spins, jukes, and sprints.