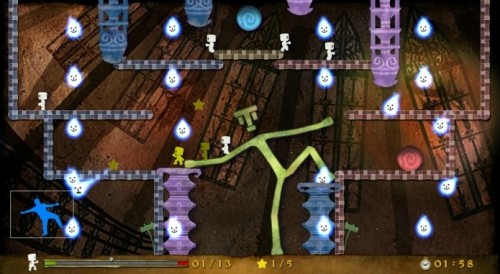 Want to lead a mysterious population of small creatures home using only your own body? Well Konami has seen fit to give you that, with their first Kinect compatible XBLA title, Leedmees, released on September 7 for 800 Microsoft Points. It's a cute little puzzler with the mystical creatures in question looking like a cross between Sackboy's little minions from Little Big Planet 2 and the friendly wood spirits of Princess Mononoke.
Players are essentially being the level, and as a giant stick man can spread their arms out to create bridges and hit switches to keep the little guys going on their journey home. A friend can jump in on the action too, allowing for more complicated puzzles and posing to keep the critters alive (or not, if you're feeling a tad evil).
It's an interesting addition to the first wave of Kinect arcade titles, and with it whimsical design and fun co-op premise, could be a nice little surprise come September.