Konami have made it no secret that they want everyone to test out their upcoming football simulator, Pro Evo Soccer 2012. Recently the publisher announced they would launch two free downloadable demos, the first of which is now available.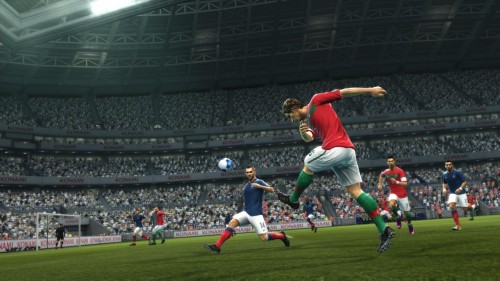 The demo is based on a preview build of the game – not at all representative of the final product -, designed to allow players to test out the new features that will be included in the title. Players can test out the Teammate Control system that allows two players to be controlled at once; the demo will also allow players to see the new Active AI Konami are bringing to the game. In addition, the demo will feature Challenge Training elements as well so players can practice the new controls. The current roster for the demo will see six teams featured: Manchester United, AC Milan, FC Porto, S.S.C. Napoli, Santos FC and C.A. Panarol.
A second free demo will be issued closer to the release date, and will allow gamers to get a glimpse of what the final product will look like. It will offer 10-minute matches but has a different lineup of teams: gamers will play as either Tottenham Hotspur, FC Bayern Munich, FC Internazionale Milano, Rangers FC, Club America or Sport Club International.
The demo is available for PS3 on the Playstation Network and PC from the download link here. However, an Xbox 360 demo will be yet to surface due to unforeseen issues in the Xbox LIVE Marketplace. Konami says the demo will be available sometime in September.