Konami are providing football fans with a demo of Pro Evo Soccer 2012 at gamescom 2011. The demo will feature a wide variety of playable clubs and national teams, as well as introduce users to the new features of the upcoming title.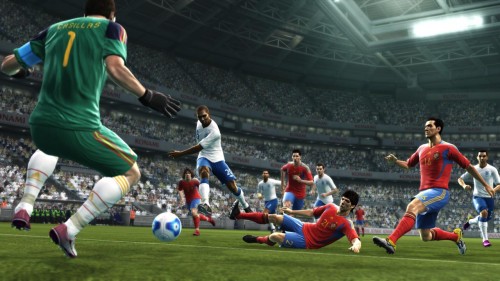 Users will be able to play as England, Italy, Spain, France, Netherlands, Portugal, or Germany; alternatively, they can choose between a selection of the following clubs: Manchester United, Tottenham Hotspur, AC Milan, Inter Milan, Juventus, Napoli, Barcelona, Real Madrid, Valencia, Villareal, Lille, FC Sochaux-Montbeliard, FC Girondins de Bordeaux, Stade Rennais FC, Ajax, FC Twente, PSV, AZ, FC Porto, Benfica, Sporting, Bayern Munich, Leverkusen, Santos, Penarol, Club Atletico Velez, Club Cerro Porteno.
The demo will also showcase Football Life, a new career mode that allows users to experience a career as either a manager, club owner, or player. This mode will also include an unlockable Club Boss mode, where users can manage a club fiscally. Training Challenge mode allows users to refine set-piece skills, including that in the new Teammate Control system, which allows two players to be controlled at once.
Konami will also use gamescom as a chance to promote their online gameplay revamp, with the return of Master League Online.
PES 2012 will release on September 27, 2011 on PS3 and Xbox 360. Konami have also just announced the title will release for Wii, PSP, and PS2 on November 8. A 3DS and iOS version have also been announced.