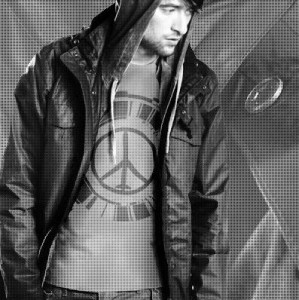 Gamescom usually includes some interesting announcements from various publishers, but this bit of news is sure stand out a tad from the rest. Konami have announced that they have partnered up with global design group musterbrand LLC to produce a Metal Gear Solid: Peace Walker themed clothing line. This new line of Peace Walker threads will feature urban street ware items like coats, sweatshirts, trousers, T-shirts and hats. Other Konami titles will be added to the line shortly after.
"This exciting partnership will give fans the opportunity to 'suit up' for one of the most successful video game franchises of all time," commented Martin Schneider, General Manager for Konami Digital Entertainment GmbH. "The mainstream success of METAL GEAR SOLID: PEACE WALKER has allowed us to look into new areas to expand awareness, and musterbrand has created a fantastic collection that is both stylish and true to elements in the game."
After seeing how whored out Mario has become in the clothing world (you have all seen the shirts), I can say it is about time for Snake to get the same treatment. This Peace walker line can be found in selected retailers across Europe and at www.eu.metalgearsolid-store.com as of today. Now if we can get a Castlevania line going….