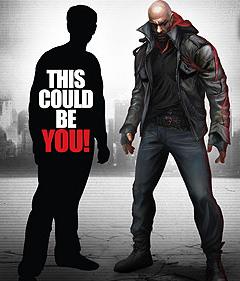 If you are one to pre-order games and have been eyeing Prototype 2, this news should catch your interest. Gamestop and Activision have announced today that anyone who pre-orders Radical Entertainment's upcoming sequel between now and September 1st will automatically be in the running to be crafted into a character model for Prototype 2.
This "Get in the Game" promotion will also include a trip for two to Radical Entertainment in Vancouver, Canada, where the winner will then prepare for their video game debut.
Radical Entertainment had this to say about the upcoming promotion:

"Thanks to this great partnership with Activision and GameStop, we have an incredible opportunity to offer gamers something truly unique," said Ken Rosman, Studio Head, Radical Entertainment. "In addition to just seeing themselves in the game, the winners will actually be able to locate their virtual selves and shape-shift Sgt. James Heller into their likeness. Radical wouldn't be where it is today without our fans, and this is just another way for us to thank them for all their support."
Nice little incentive to throw down a pre-order, if I do say so myself. Sadly, this contest of sorts is only available to those in the U.S. and Canada at the moment, with links to both entry forms found below.
U.S.
www.gamestop.com/collection/prototype-2
Canada
www.gamestop.ca/prototype-2