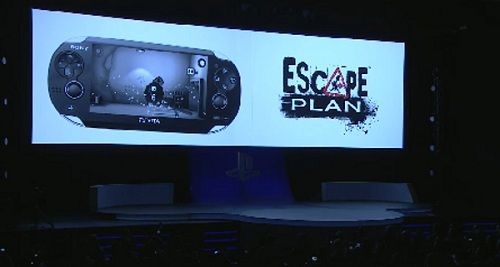 During Sony's Gamescon conference, a game called Escape Plan was announced. In fact, Travis wrote the article right here. Unfortunately, there wasn't a plethora of information that came with the announcement. However, a preview of the game from IGN has revealed the control scheme used to play the game.
To put it simply, the control scheme will be void of physical controls. So that means the game will be controlled through the touch screen and rear touchpad. It seems that those two functions of the Vita is the main focus of this game, considering there was no mention of the use of motion control or the cameras. The analogue stick was used for camera control, but that could be removed from the final build.
The control scheme wasn't the only information revealed. The game is being produced by those who developed Fat Princess (with some developers on the team working with the PSP version) and the game takes on a very humourous tone, including the deaths, being described as "heinous and unusual".
Escape Plan is a puzzle game where you control two characters, Lil and Laarg, throughout different environments 'through any means necessary'. This is an early build because they were locking their lips and throwing away the key when it came to release and distribution.