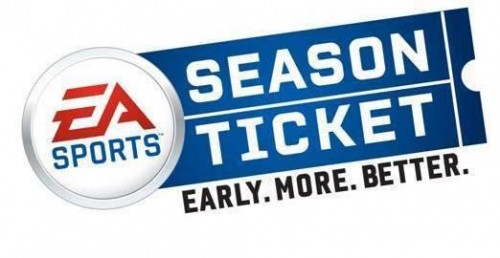 This "premium pass" trend is continuing to grow on consoles, and EA have now launched their very own pass as of today which will let players enjoy several activities while paying a 2000 Microsoft Points ($25) annual fee in the process. I know most of you are giving a collective sigh at the moment, but I can admit a couple features listed are quite intriguing.
Starting with this month's release of Madden 12, those who purchase the "Season Pass" will be able to download the full retail versions of upcoming EA Sports titles three days before the launch date. After the three days passes, the game will then be deleted, but achievements will still be carried over when the user purchases the full retail version. Franchises that will implement this system include Madden NFL Football, NHL hockey, EA Sports Fifa and Tiger Woods PGA Tour.
An early download isn't all that users of the Season Ticket program will receive, as other goodies such as discounted DLC and "premium web content". Check out the full list of features below:
Early Full-Game Digital Access: Three days before a game's scheduled release, fans will be able to download and play the full version of all four participating titles on Xbox 360. After three days, the digitally downloaded game will time out and consumers have the option to purchase the same full game on disc at retail. EA SPORTS Season Ticket subscribers can transfer all achievements earned during the three-day download period to the purchased disc, resulting in an early edge over the competition.
Discounted Downloadable Content: Subscribers will get a 20-percent discount on all available downloadable content for participating EA SPORTS titles. Downloadable content, which enhances and refreshes the core game experience, includes such items as Ultimate Team packs, accelerator packs and gear upgrades.
Free Premium Web Content: Premium web content extends the game experience beyond the console to a web browser. All participating titles will feature premium web content that will be free to EA SPORTS Season Ticket members beginning with the premium Creation Centre packs for FIFA 12. These packs provide a deeper set of customization tools and abilities within Creation Centre to build your own teams and tournaments, and will be available to the consumer until the membership to the program has expired.
Membership Recognition: Subscribers are easily identifiable with an exclusive membership recognition badge displayed both in-game and on their EASPORTS.com profile.
While I must say the thought of having a retail game a few days early is certainly an innovative incentive, I still think the $25 price point is a bit steep considering that only 5-6 EA Sports titles are released each year and 20% off DLC isn't too much of a deal as most sports title's extra content come low priced as it is.
However, I am sure there will be some hardcore Fifa/Madden fans that will love this bundled package, and if you are one of those, I say go for it. I am now going to hope that something like this is incorporated for EA's other titles such as Mass Effect 3, which I would saw off my arm to play early.