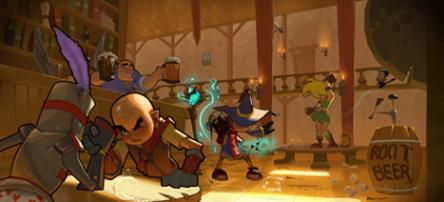 Those who are itching to play Trendy Entertainment's upcoming action-RPG/tower defense hybrid are not going to have a long wait ahead of them, as it was announced today that the XBLA & Windows PC versions of Dungeon Defenders will be released on October 19th.
"It's been a long time coming, but the day is finally here to announce when we'll be unleashing the full console version of Dungeon Defenders upon the masses, and we couldn't be happier," said Jeremy Stieglitz, COO and co-founder of Trendy Entertainment. "The console version of Dungeon Defenders has more content, more depth and more challenge than many full retail boxed games, so we can't wait to get it into players' hands so they can experience this epic role playing game as it was intended to be played."
For those who haven't been following this title, Dungeon Defenders blends together the tower defense genre with action-RPG elements and allows for up to four players to join together in an offline or online drop-in/drop-out co-op experience to take down an ancient evil. As far as the way the game actually plays, this title uses a combination of hack and slash and real-time strategy to take down foes, which are two genres we don't often see mixed together. Players can also expect a ton of looting, tradable pets, tons of game-play modes in this cell shaded adventure.
Those who want to try out the game early will also be pleased to know that be playable at PAX Prime at the Reverb Publishing booth #3652. A new trailer was also released to show off the Squire in action, which you can check out below. Dungeon Defenders is set to release (as mentioned) on the Xbox Live Arcade and PC on October 19th, with a PSN release date that will soon be announced.