Five days after Crime City's release on iOS it has been announced that it has topped the Free Apps Chart and ranked in the Top 10 Grossing Apps Chart. How does one manage to be a free app and yet also be the highest grossing app? Well, like its original Facebook version it actually charges players for in game content such as gold or cash that can be sued by the player to buy new and shiny things. With a mixture of violence, capitalism and the social aspect of shooting someone else in the face, its no surprise that Crime City has done so well.
Since its release on Facebook last September Crime City has experienced huge amounts of success, becoming one of the top five Facebook games (beware Farmville), with more than 1 million daily active users and 7.5 million monthly players, as well as a rating of 4.9/5. It was no wonder that this game completely blew up when it reached the app store, having over a million downloads in less than a week.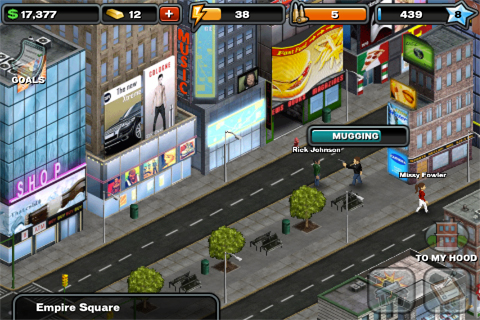 Crime City was also one of the first games available on Google+, so it only seemed natural for it to progress onto iOS. The fact that the developers kept the game free was probably a huge draw for the audience and was a good move on Funzio's part. Obviously as previously mentioned, there is in game content which can be purchased for real dollars, but that is up to the discretion of the player.
Funzio are probably quite happy with themselves at this point and they deserve to be, in less than a week they've taken the app store and turned it on its head. This was probably a mix of the addictive nature of the game, the good quality, the huge audience and the fact that almost everyone loves them some free apps.
Check out the trailer for the game below. What do you guys reckon, is Farmville gulping as it looks down a mobster's shotgun barrel?