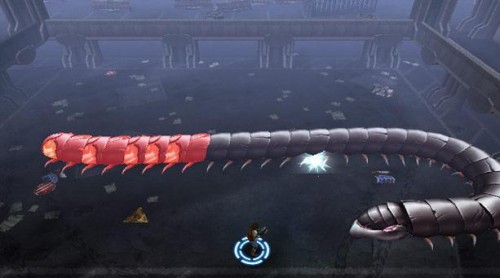 Coming this year to Nintendo's flagship systems, Centipede Infestation features "Max, the hero and bug slayer, who must defend Maisy, a girl whose gardens bring life back to the wasteland that the planet has now become." As you go through the game, you battle centipedes, spiders, beetles, moths and other creepy-crawlies with guns like the Lightning Orb Gun, Nuke Cannon, Freezethrower and Mine Launcher. One of the most interesting parts of the game is the feature where you can use dead bugs to create defenses and power-ups.
Check out all the stats for the game below:
· Reimagined version of the classic gaming franchise designed specifically for the Nintendo Wii and 3DS
· Explore an expansive new world with 7 environments, 40 stages and 5 boss battles
· Choose from over 20 different weapons and power-ups to battle against more than 20 different types of bugs
· Immersive storyline filled with a variety of gameplay and intrigue
· Team up with a friend to kill even more bugs with 2 player co-op multiplayer
· Unique "street pass" feature for 3DS – Unique content shared between passing Nintendo 3DS units
Atari is certainly going all out to revive this classic game Are you excited?
Related article: Centipede Infestation Now Available for Pre-Order!