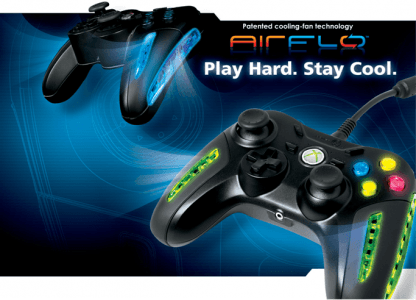 Now here is something interesting to consider. Do you ever get sweaty hands while you play your favourite game? It could be while you are in a middle of an intense multiplayer game or boss battle. If the answer is yes, then this might be the solution.
The guys at Bluemouth Interactive are introducing two new game controllers, one for the Playstation 3 and one for the Xbox 360 (which is officially licensed by Microsoft), are going to keep your hands cool and sweatless during those intense moments. Both controllers will feature:
• Patented Air Flo™ technology keep your grip cool!
• Built in fan with two speeds circulates up to 3.41 cubic feet of air per minute!
• Illuminated vents
• Ergonomically designed for comfort
• Dual rumble motors
The Playstation 3 will cost $39.95 while the Xbox 360 will be sold for $49.95. Check out the trailers for the Playstation 3 controller and Xbox 360 controller for more information. Also, check out the controllers below. They actually look nice. Expect a review soon.