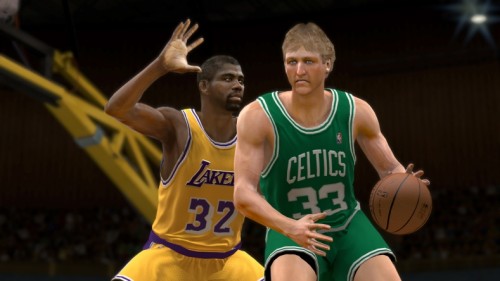 Like the game's real-life counterpart – the NBA – 2K is remaining fairly quiet about many details of the game. All except for this year's focal point, the "NBA's Greatest" mode. 2K Sports today have announced the 15 legends that will feature in the new mode, creating dream match-ups and fighting for legendary supremacy.
The 15 greatest player's that will be featured in 2k12 are:
Kareem Abdul-Jabbar
Larry Bird
Wilt Chamberlain
Julius Erving
Patrick Ewing
Magic Johnson
Michael Jordan
Karl Malone
Hakeem Olajuwon
Scottie Pippen
Oscar Robertson
Bill Russell
John Stockton
Isiah Thomas
Jerry West
Each of these 15 players have been meticulously created and include signature moves and personalities. Take a look at the tongue-sticking-out level of detail they went to for MJ last year and we can only assume that same level of detail will be included for all of these players.
Additionally, if you pre-order the game you will be given two bonus teams: the 1990-91 Golden State Warriors and the 2001-02 Sacramento Kings. Better get cracking if you want those extra teams.
How do you feel about the list? Were you hoping to see someone else included? Let us know in the comment section below.