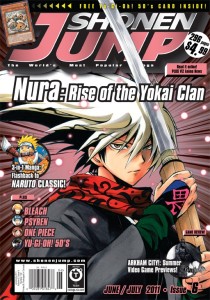 Viz Media has announced silently today that they will be altering their release schedule of their previous 12 volumes a year magazine to a 10 volumes a year magazine. In co-ordinance with the change, from now on the June and July issues will be combined into a super double issue called June/July and the same will be with December and January becoming December/January.
Along with this change comes change in subscription rates. They have confirmed that a yearly subscription of 10 issues will now cost $26.95 US dollars and a year and half subscription of 15 issues will cost $37.50 US dollars. With this, a 2 year subscription is no longer available.
You can currently purchase the latest volume, the June/July issue featuring Nura: Rise of the Yokai Clan at all good bookstores.