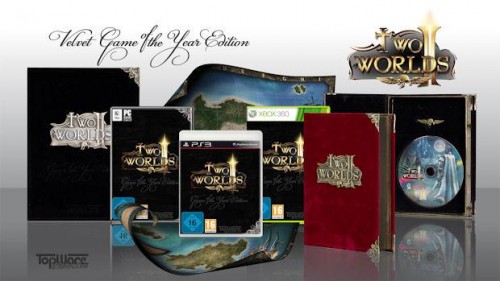 One of the most pleasant surprises this year has to be Two Worlds II. The game went on to become quite a hit and completely washed away the sour taste of it's predecessor in the process. Even more surprising news is that now Topware are planning on releasing a Game of the Year Edition for Two Worlds II on October 18th, and are going all out in the process.
As you see in the picture above, this set will include a case crafted out of velvet (which will be black for the PC/Mac and red for the Xbox 360 & PS3) with corners made out of brass. While the case is honestly enough to make this version a collector's piece, Topware are also offering a double-sided world map, a pirate head pin, and a bonus disc featuring wallpapers, two PVP maps, and an extended soundtrack with the game. Also included will be the upcoming expansion, Pirates of the Flying Fortress. That is a crazy amount of extra content and I must say bravo to Topware for making this edition all the more special.
Hopefully we will hear of a wallet comforting price soon enough, as I am already drooling over all of the goodies packed inside.