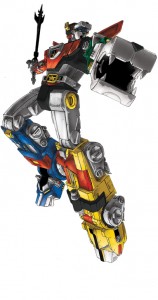 Voltron is making a comeback in October, THQ has announced Voltron: Defender of the Universe, scheduled for release on Xbox LIVE®Arcade and PlayStation®Network.
In this brand-new take on the classic Voltron animated series, nostalgia induced players like myself can except Interwoven clips from the original animated series remastered in hi-def.
The game has multiplayer, including either online 1 to 5 player co-op or offline in 1 or 2 player co-op. Players select a Lion based on a number of strengths, resistances and elemental attacks that they use to battle fierce Robeasts and a number of other familiar enemies.
"We really wanted to create a game that's exciting, true to the original series and challenging to play," said Peter Armstrong, executive producer. "All of us here are big fans of classic Voltron, and we're really proud of what we have created."
Voltron: Defender of the Universe will cost 800 Microsoft Points on Xbox LIVE Arcade and $9.99 PlayStation Network. Checkout the screenshots below