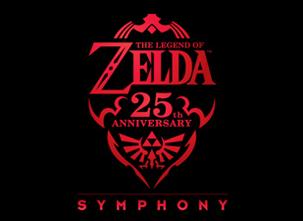 One of Nintendo's biggest announcements at E3 was the plan to take a full orchestra on tour in celebration of Zelda's 25th Anniversary. Today the big N have officially gave a starting date for the tour along with a few details and prices so you Zelda die-hards can start preparing. On October 21st, The Legend of Zelda 25th Anniversary Symphony Concert will kick off in Los Angeles at the Pantages Theatre with Nintendo composer Koji Kondo and his full team bringing some of the most memorable tunes from the series to life on stage. The full tour then will resume a bit later in 2012.

"The Legend of Zelda has few peers in the pantheon of video game giants, and the games and their music have always shared a deep connection," said Scott Moffitt, Nintendo of America's executive vice president of Sales & Marketing. "Through these concerts, fans nationwide will be able to gather and show their love for the quarter century of action, adventure and excitement that The Legend of Zelda games have brought to their lives."
A 70-piece orchestra will be joined by a choir to perform new arrangements of a variety of songs from the series' 25-year history. The concerts will be produced by Jason Michael Paul Productions, Inc., the producers of PLAY! A Video Game Symphony, which has toured the world performing music from video games.
"The Legend of Zelda 25th Anniversary Symphony Concert Tour brings one of the video game industry's most exciting and enduring franchises to the concert hall and presents what we feel is the definitive concert experience for the series," said executive producer Jason Michael Paul. "It's an event that fans and music aficionados won't want to miss."

So how much will this event cost? Tickets are actually budget friendly and will start at $35 (US) when they go on sale on August 1st for the first show in LA. Now I strongly reccommend bookmarking the sales page on Ticketmaster that can be found here, as these tickets are sure to sell out fast due to the nature of the event. No other locations have been listed for the 2012 tour as of yet, but once we hear word on that we will be sure to keep you updated. For now though, Zelda fans should start planning their road trips and travel plans, as this concert is sure to be a rare event that is unlikely to produce many encores.