I have to say that my experience with SMASH! this year was much better than my experience with SMASH! last year. I don't mean that negatively either, last years Sydney Manga and Anime SHow (intentional caps) was easily my favorite convention of my entire convention going life (since 2004! missing only 2009).
There was something about this year, and I'm not too sure of what it was, that made this easily the best event I've been to. Perhaps it was rediculously good venue? Maybe it was all the awesome attendees? The rediculously good cosplayers? The interesting, yet entertaining, panels? Surely, it could not have been just one of these factors. No, it must have been them all combined with a few others that I couldn't have realised, but were surely in practice at the convention.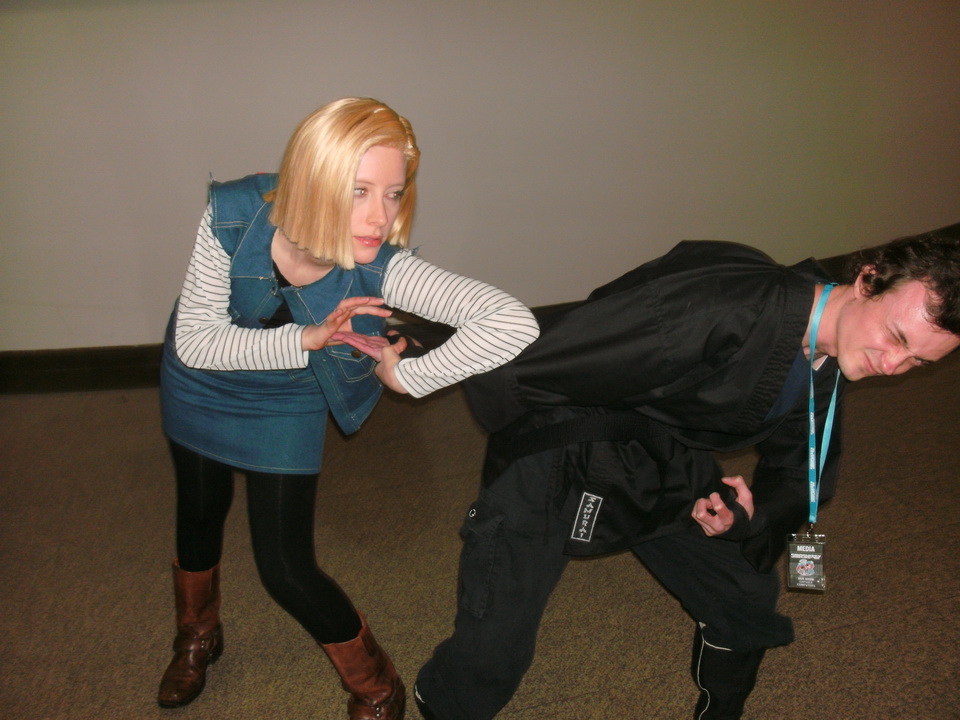 Out Ninjaed by an Android.
The staff at the event were all incredibly professional and the event was handled beautifully. I quite like how they handled the guest speakers especially; giving media a chance to interview them before the event, rather than try and disrupt their timetables within the convention itself.
The way the queues were handled that morning was incredibly well done and efficient, and from my convention going experience, queues can be one of the biggest time-sinks if they're handled inappropriately. I'm fairly certain they died out pretty early into the conventions lifespan.
Our own Matty Vella with a Code Geass group.
And of course, the cosplay contest was amazingly popular and it was well anchored by the guys hosting it. They had some amazing moments and did their best to make all the cosplayers feel comfortable, as well as trying to push them into causing a little more mayhem than usual, all in the name of fun of course.
Though the one thing that I *really* loved, was the nice passes that were given out to (not only us from the media, or the organisers) everyone who attended the event. These weren't just cheap wristbands or anything like that, we're talking tassles and tags. Amazing!
It's Dante! Bloody Amazing job!
Overall, I'd say that SMASH! 2011 was one of the best conventions within Australia for not only the year, but since 2004 at the very least.