SMASH! Con has always been home to a great number of vendors, selling all sorts of bits and bobs, however this year we saw an unprecendented amount of vendors. This year held so many great vendors, it was difficult to keep track of them all. For interest of time I will highlight some particularly awesome vendors at the event this year, as well as provide a list of who was present with a booth or stall.
Stand out vendors included:
– Madman with there giant booth featuring a plethora of manga ($10 per book!), anime (discounted prices) and plenty of other Madman licensed merchandise.
– Siren Visual giving out free posters for When They Cry, The Tatami Galaxy and Clannad: After Story as well as selling a bunch of anime from them.
– Hondarake – Full of Books was there with awesome discounted manga and anime, some of which are incredibly rare or out of print, so if you managed to pick some of them up, congratulations!
– Anime at Abbotsford were selling a truck-load of anime merchandise, particularly figurines and models as well as plushies, and other miscellaneous merchandise.
– Pinin were also great and featured a wide range of plushies, cuddle pillows and other anime merchandise all for great prices.
– Lets not forget the Hobbyco booth which had all the great Gundam models on display and for sale.
– Finally another stand-out was the Japan Foundation, who do alot of great work with bringing Japanese culture to Australia through various means.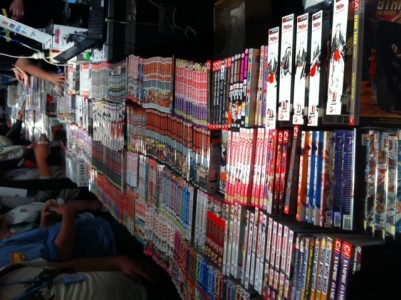 If your favourite vendor wasn't above, don't fret, they were all brilliant, here is the full list of vendors below:
Madman
Hobbyco
Japan Foundation
AIE
Alice Overture + Forgotten Memories
Animavericks
Anime at Abbotsford
Armoured Heaven
Battle Axe
Critical Hit
Design Centre Enmore
DJ Cosplay/X-Seven
Graphic! At the Sydney Opera House
Hondarake – Full of Books
JMC Academy
JP Mode
Kiseki Magazine
Manga Arts
Meon
Panda Sparks
Pinin
Quantm College
Siren Visual
Sugart
Supanova
Transreality Simulations
Wacom
Zombster
Plus of course all of the artist circle and anime clubs which were also great. So what did you guys think of the vendors? Who was your favourite? Leave a comment below letting us know!