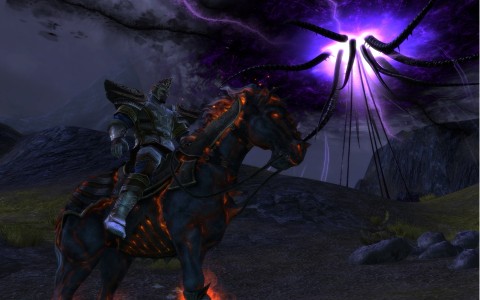 Today, Trionworlds has launched the new E-Card app based on their MMORPG Rift on the Facebook platform. The Application allows players to superimpose up to three images of faces, pets and/or other items into a series of pre-designed images based on the Rift universe. These themes include Dwarves, Elves, Bahmi and notable NPC's such as Asha Catari and Cyril.
Feel free to try out the application at the Facebook page.
About RIFT

Adventure in the world of Telara as either a noble Guardian or technomagical Defiant and enter a dynamic fantasy where 8 primal forces battle for control in an ever-changing landscape. Build your own class using the Ascended Soul system, embark on epic conflicts that bring you into the story, battle others in exhilarating Player vs. Player combat, achieve new heights of power by tackling epic raids, and so much more. See www.RIFTgame.com for more information.
UPDATE! Card I made quickly.