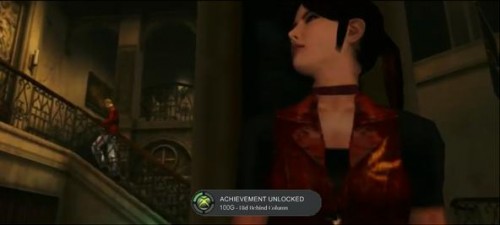 Adding to Luke's article from yesterday about the Resident Evil (Biohazard) 15 year anniversary collectors edition.  I thought it would be cool to share with you all the Achievements for Capcom's Resident Evil: Code VeronicaX HD that will be out this fall.  Total achievement points to collect will be 1000 but the're arn't that many (only 12 of them) but the're all worth between 50 to 150g.  Check them out below and get yourself pumped for one of the best Resident Evil's ever created.
Achievement list :
Duty And Humanity (50g): Deliver some medicine to a man in need
To The Frozen Land (50g): Begin the search for your sister
The Terror Begins (50g): Escape from the graveyard of terror
A Changed Father (50g): Liberate the changed man
Beyond The Shades (50g): Encounter a former S.T.A.R.S. captain
From The Young Lady (50g): Receive encouragement from a young lady
The Green Giant (50g): Say farewell to your fallen comrade
The Fallen Tyrant (100g): Flatten an unstoppable enemy
The Prisoner Who Lost Everything (100g): Defeat the nameless man and end his suffering
The Arrogant Queen (150g): Put an end to the Queen's reign
Weapon Crazy (150g): Get the Rocket Launcher
Battle Master (150g): Get the Linear Launcher from Battle Game
What do you think will be the hardest one to get from the list above ?